This tour combines the best trekking tours around Cusco, The Salkantay Trek with the Inca Trail, enjoy the beautiful landscape
of Salkantay and the ancient Incan archeological sites along the Inca trail.
Tour Specifications:
Tour Package: 7day Salkantay Trek plus Inca Trail to Machu Picchu
Duration: 7 Days / 6 Nights
Type of Tour: Alternative Trek to Machu Picchu + Traditional Inca Trail

Group Size: Private Tour starting with 2 people

Departures Day: Close on February, this tour must be booked 5 to 6 months in advance.
Difficulty degree of this Trek: Challenging due to the altitude, we recommend a period of at least 2 days for acclimatization in Cusco or over 3000m/9840ft.
Popular Inca Trail Tours:
No Inca Trail spaces available? If the spaces for the Inca Trail are sold out and you would like to reach Machu Picchu Trekking, please consider booking our most Popular Alternative Trek to Machu Picchu called Salkantay Trek.
Please remember that there are only 500 spaces available per day for the Inca Trail, around 300 of them are taken by porters, cooks, and tour guides, the reaming 200 spaces are for tourist. To ensure your spaces for the Inca Trail we do highly recommend you to book it 4 to 6 months in advance.
VERY IMPORTANT!
NOTE 01: Day 6: The Peruvian National Institute of Culture has established that some groups stay overnight in Wiñayhuayna. Usually the groups that get to stay overnight in Wiñayhuayna are those who made their registration in advance for that date. Once the camp at Wiñayhuayna is full groups must spend the night in Phuyupatamarca which is located a few hours before Wiñayhuayna. There is no way to choose this. We advise to book your tour as far in advance as possible.

NOTE 02: Day 7: The Huaynapicchu a mountain is located behind Machu Picchu. From the top of Huaynapicchu you will get a great aerial view of the Inca citadel. There is a checkpoint at Machu Picchu to climb Huaynapicchu. Entrances to climb up Huaynapicchu must now be reserved with a new entrance ticket to Machu Picchu because the entrance ticket for the Inca Trail does include only Machu Picchu and not Huaynapicchu. The tour guide will provide information on where the entrance to climb up Huaynapicchu is located inside of Machu Picchu.
Tour Map: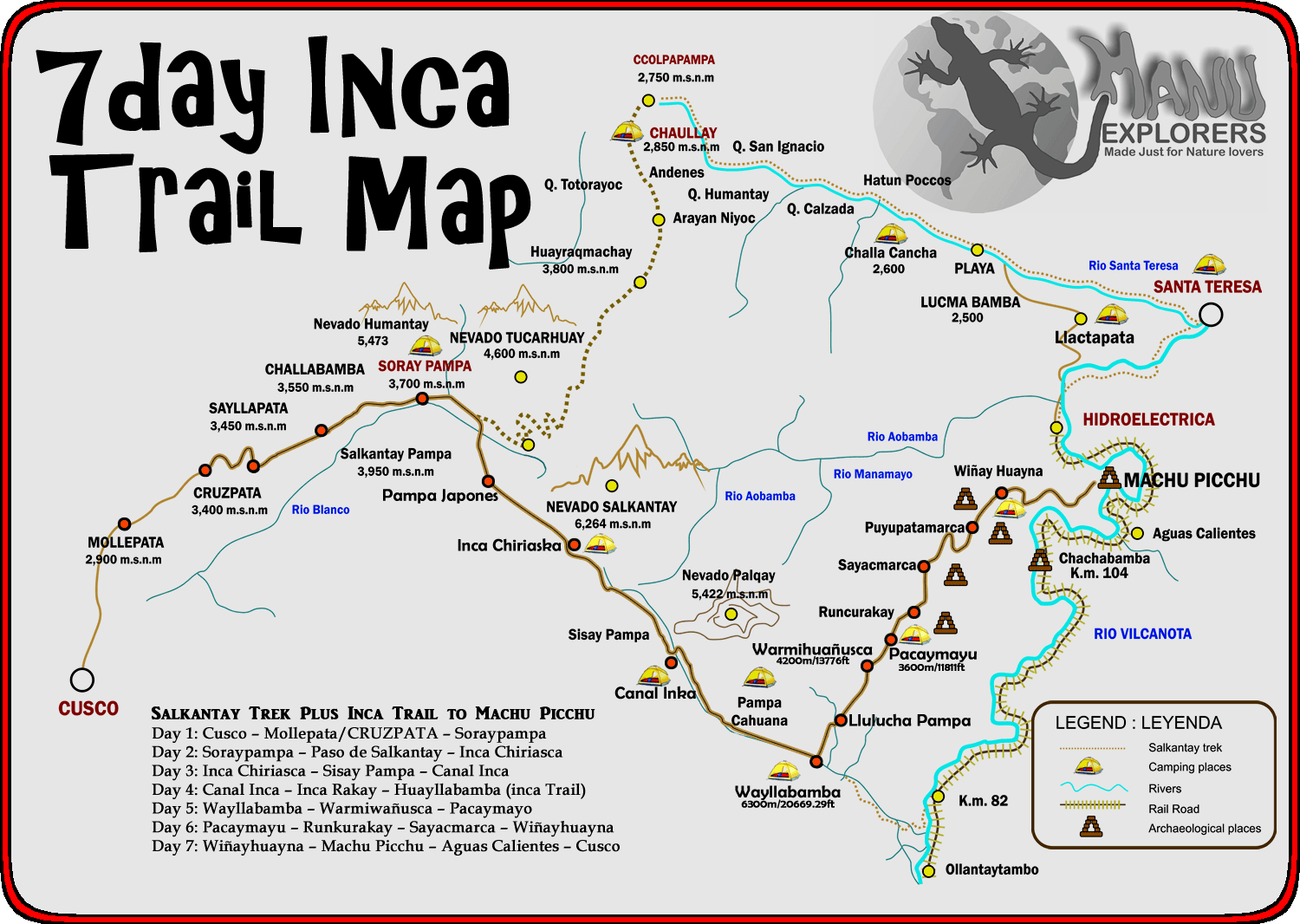 Salkantay Trek Plus Inca Trail to Machu Picchu Tour Itinerary
Day 1: Cusco – Mollepata/CRUZPATA – Soraypampa
This tour starts very early; we will pick you up from your hotel at 4:30 am. In a private bus we will then drive to Mollepata, passing through the communities of Izcuchaca and Limatambo. In Mollepata we will stop for a delicious breakfast. After this, we begin our ascent on foot to Cruzpata at 3100m. During the hike you can appreciate different types of plants, native birds, the Apurimac River (which is the deepest in Peru) and an irrigation canal for local communities. After about six hours of walking we will arrive at our first camp Soraypampa 3900m. From here we can appreciate the majestic Apu Salkantay. Overnight in Soraypampa.
Day 2: Soraypampa – Paso de Salkantay – Inca Chiriasca
After our breakfast, we leave in the direction of the Abra de Salkantay. During the hike we will climb through several different climates in which we will see small groups of houses, flora, small wild birds and spectacular views of the Humantay snow peak (5902masl). After about six hours walk we arrive at our second camp Inca chiriasca (3980masl) from here we can appreciate the majestic mountains of Salkantay 6271masl. Overnight in Inca chiriasca.
Day 3: Inca Chiriasca – Sisay Pampa – Canal Inca
After a good night sleep and breakfast, we begin our 4 hour steep climb to the pass of Inca Sisay Pampa (4850msnm). Once we reach the top of our hike, we will have breathtaking views of snow-covered Salkantay. We will then descend to our lunch point Sisay Pampa, a flat area from which one can see the neighboring valleys of Salkantay (you may see condors in this area.) After lunch we will descend to Pampacahuana community where we can appreciate an original Inca canal. Here we will spend our third night.
Day 4: Canal Inca – Inca Rakay – Huayllabamba (inca Trail)
We wake up about 7:00 am, after enjoying breakfast we start our hike. Today will be the hardest hiking day. The walk is a precipitous rise and narrow (9 km). Along this climb, the landscape changes from sierra to puna (a dry and high area with little vegetation). We will continue to the community of Wayllabamba (3000 m) where we will visit the archaeological complex of Inca Racay (Paucar court). This site is composed of various buildings such as plazas, walls, and rectangular terraces. In Wayllabamba, we will enjoy lunch. This is the point at which we begin our Classic Inca Trail to Machu Picchu. As pack animals are not allowed on the Inca Trail, so we bid farewell to our horsemen and horses and in their place we were introduced to the porters who will take care of loading the camping equipment and food for the rest of the tour.
Day 5: Wayllabamba – Warmiwañusca – Pacaymayo
After our breakfast, we start our walk, through Tres Piedras, Llulluchapampa reaching the peak of the Inca Trail Warmiwañusca (dead woman) at 4200masl. Continuing the path we will descend to our camp Pacaymayo (3500masl), here we will spend our fifth night.
Day 6: Pacaymayu – Runkurakay – Sayacmarca – Wiñayhuayna
After our breakfast, the sixth day of the trek includes tours to the ruins of Runkurakay and Sayacmarca We will also enjoy lunch at the ruins. Then we will walk the road to get Puyupatamarca (cloud city) another important archaeological site. After visiting this site we will have a short walk to our last camp Wiñayhuayna (forever young). Visit the resort. Camp, dinner and overnight.
Day 7: Wiñayhuayna – Machu Picchu – Aguas Calientes – Cusco
Before sunrise, about 4:30 am, after our breakfast we begin a short hike up to Inti Punku (Puerta del Sol), which has a fantastic view of Machu Picchu. From here we have reached our destination of Machu Picchu. You will get a guided tour lasting approximately to two hours. During the tour you will receive an explanation of the most important places in the Inca citadel of Machu Picchu. You will then have free time to climb Huaynapicchu. In the afternoon you will go to the town of Aguas Calientes where you will catch the train to Ollantaytambo and then a bus back to Cusco.
The Tour Includes:
Transportation from Cusco to Cruzpata or Chayllacancha.
English/Spanish speaker professional guide during all the tour
Entrance ticket to the Salkantay Trek, Inca Trail and Machu Picchu
Meals (07B, 06L, 06D + wake; up tea)
Snacks
Cook and cooking equipment
Personal pad (double foam)
3-4Person Tents only for 2Person in each tent
Mules for the Salkantay Trek
Local porters (service to carry the food and camping equipment only)
Dinning tent, portable chairs and table
Guided visit to Machu Picchu and the ruins along the trail.
Bus ticket down from Machu Picchu to Aguas Calientes
Train ticket from Aguas Calientes to Ollantaytambo
Transfer from the train station to your hotel in Cusco
Vegetarian food available, with no extra charge
First-aid kit including emergency oxygen bottle.
NOT INCLUDED:
Last day lunch and dinner
Sleeping bag
Personal equipment
Personal Porter
Private Mule
Beers
Entrance to the Hot spring in Aguas Calientes
7day Inca Trail Tour Price: The tour prices with discount listed below apply when you book two weeks in advance as minimum and are based on the number of people that books the tour together.
7Day Inca Trail to Machu Picchu
| | | | | | |
| --- | --- | --- | --- | --- | --- |
| Number of people | 2 person | 3 people | 4 people | 5 people | 6 people+ |
| Price per Person | $1350.00 | $995.00 | $895.00 | $850.00 | $820.00 |