Join our 6day Ausangate Trek and go around the Ausangate Snow mountain, all meals, and transportation included.
Tour Package:Ausangate Circuit
Duration: 6 Days / 5 Nights
Type of Tour: Alternative tour in Cusco

Group Size: Tour starting with 1person

Departures Day: Daily departures are available between May to October.
Difficulty degree of this Trek: Challenging due to the altitude, we recommend a period of at least 2 days for acclimatization in Cusco -or over 3000m/9840ft.
Tour Map: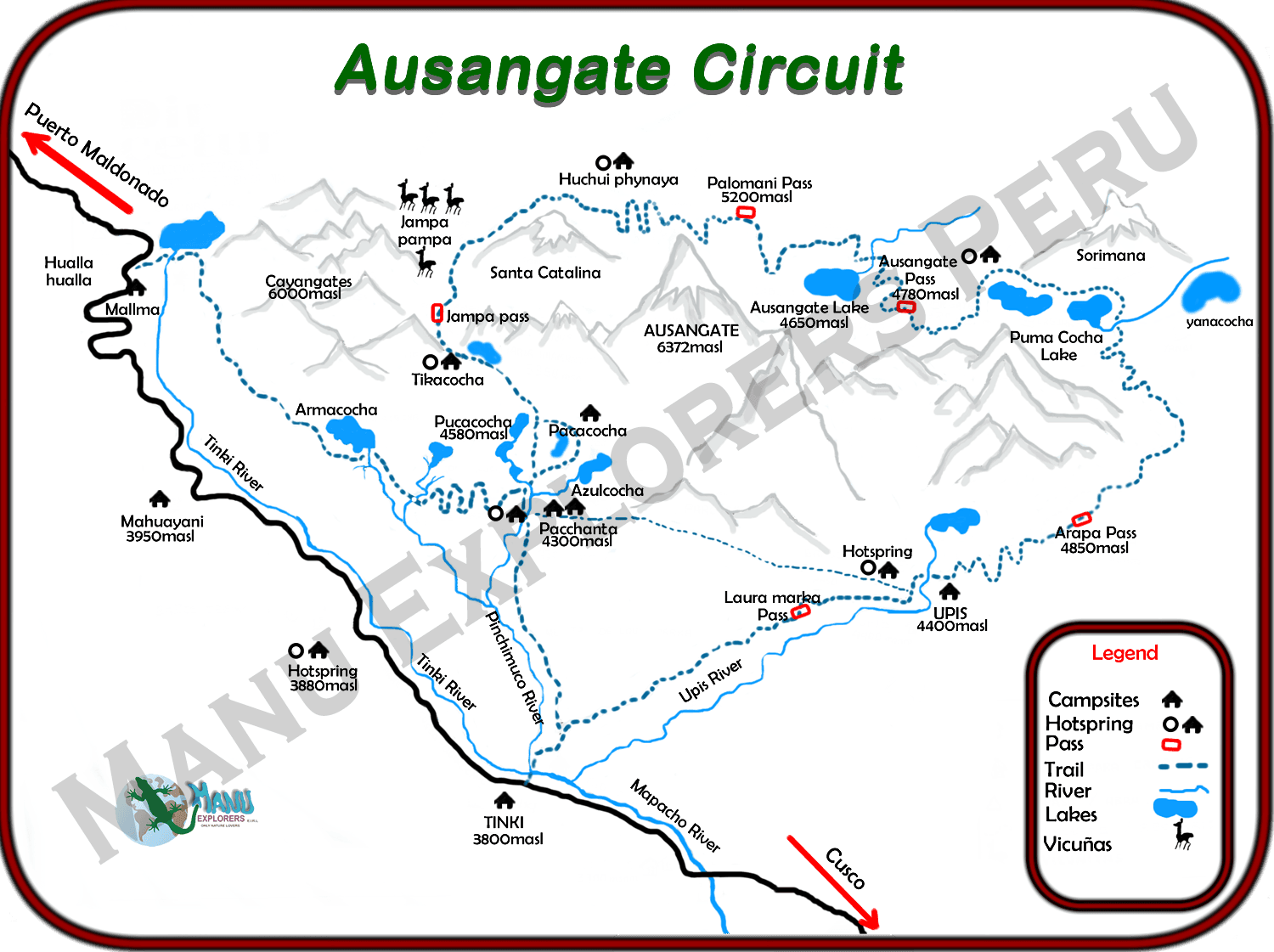 ITINERARY:
Day1: Cusco - Tinki
We leave the city of Cusco in a private transportation, and drive along the Cusco – Puerto Maldonado highway in the direction of Tinki (3800m/12464ft). On the way we stop in Urcos, where we may visit a beautiful lake with the same name. We then go on to Cattca, an agricultural and cattle raising community where we can appreciate the region's spectacular views and finally pass through Ocongate, capital of the district with the same name and only half an hour away from our destination. After an approximated 6-hour drive, we arrive in Tinki, where we sleep in a local lodge and start the trek the next morning.
Meals: L, D
Day2: Tinki - Upis
We leave Tinki initiating a slight climb that crosses through puna (dry, high area with little vegetation) to then arrive at our lunch spot after a three-hour walk. From here we already have beautiful views of the sacred Ausangate peak (6372m/20900ft). After lunch, we continue walking for another hour and a half to reach our campsite in Upis at 4400m/14432ft. From this point, we may appreciate fabulous views of all the snow peaks in the area. We camp and dine directly in front of Ausangate.
Meals: B, L, D
Day3: Upis - Ausangatecocha
After breakfast, we continue our hike ascending for two hours to reach La Arapa pass (4850m/15908ft). We then descend to our lunch spot, crossing an area of falcons and ¨vizcachas¨ or Andean rodents. This area also boasts three beautiful lakes with tones of reds, greens, and turquoises (Pukacocha, HatunPukacocha, and Qomerqocha) and spectacular views of the surrounding snow peaks. After lunch, we continue on a long and slow ascent that will take us, after about two hours, to the second mountain pass, the Abra de Apuchata (4900m/16072ft), from which we descend, for another half an hour, towards our campsite at Ausangatecocha (4440m/14563ft).
Meals: B, L, D
Day4: Ausangateqocha - Q´ampa
Today, we depart early to climb for two hours towards the third mountain pass, the Abra de Palomani (5200m/17056ft). This is the highest part of the entire hike, from which we then descend for another 2h through an area of llamas, alpacas and ¨vizcachas¨ to reach Pampacancha (4050m/13284ft). From here we follow an uphill trail until that leads us to our campsite in Q´ampa (4300m/14104ft). Along this easy 3-hour climb we may have the chance to spot llamas, alpacas, and maybe even pumas. We will camp and dine at this place.
Meals: B, L, D
Day 5: Q´ampa to Pacchanta
We climb for 2 hours until we reach Q´ampa mountain pass (5000m/16400ft), where we may have the chance to spot the Andean deer. From here we descend towards the Qomerqocha lagoon to finally arrive at Pacchanta (4100m/13448ft) after an approximated five-hour walk. Pacchanta is a little community with attractive hot springs where we can enjoy a relaxing dip. We camp and spend the night at this place.
Meals: B, L, D
Day 6: Pacchanta to Tinki
We leave Pacchanta and start to walk our way back to Tinki, which will take approximately 2 hours. Once in Tinki, we board a private transportation that will take us back to the city of Cusco, where we estimate to arrive after nightfall.
Meals: B, L
What is included:
Collection from your hotel in the morning and transfer in private bus to Tinki, starting point of the trek.
Personal tents: 2 people in each 4-people-capacity tent, to allow for higher comfort and a safe keeping of backpacks. Our tents are 3-season, 2009-new, highly maintained to ensure an excellent performance in field.
One foamy sleeping pad per person
Dining tent with tables and chairs
Kitchen tent
English speaking professional guide (2 guides for groups over 8 people)
Cook and cooking equipment
Horsemen and horses (to carry tents, food and cooking equipment)
1 emergency horse every 6 persons
Accommodation for our guides, cook and horsemen
Meals (05B, 06L, 05D + daily morning snack + daily tea service except last day)
Others: hot water every morning and evening for washing purposes / boiled water to fill in your water bottle every morning and night, and at lunch time if requested with enough time ahead
First-aid kit
Private transportation from Tinki to Cusco, including transfer to your hotel in Cusco
Not included:
Breakfast on the first day
Dinner on the last day
Sleeping bag. ( you can rent with us )
WHAT WE RECOMMENDED THAT YOU BRING.
A backpack with a change of clothes for the whole period of the trek
Rain gear (jacket and pants if available) or rain poncho (plastic ponchos can be purchased in Cusco)
Strong footwear, waterproof trekking boots recommended
Warm clothes, including jacket, fleeces. Thermal clothing is also recommended, especially for sleeping
Sleeping bag (it can be hired at our agency for US$ 3.00 / day)
Mattress: will be provided by the agency but is to be carried by you
Flashlight and batteries
Camera, films and batteries (batteries consume more quickly under cold conditions)
Hat or cap to protect you from the sun, rain and cold
Sun block
After-sun cream or hydrating cream for face and body
Insect repellent – minimum recommended 20% DEET – no malaria risk has been reported
Handkerchiefs
Toilet paper
Snacks: biscuits, energy bars, chocolate, raw fruits, muesli, etc. Please beware that we do provide a daily morning snack and our meal service is very complete and well supplied. This recommendation applies for all clients being used to a specific snack, as it may happen that it is not included in our selection.
Canteen and water for the first morning. Optionally: water sterilizing tablets in case you pick up water from streams or rivers along the route. Otherwise, we provide filtered boiled water, which is safe to drink and has not reported any health problem so far.
Small towel
Optional: walking sticks or poles
Tour Price: The tour prices with discount listed below apply when you book two weeks in advance as minimum and are based on the number of people that books the tour together.
6day Ausangate Trek Circuit
| | | | | | |
| --- | --- | --- | --- | --- | --- |
| Number of people | 1 person | 2 people | 3 people | 4 people | 5 people+ |
| Price per Person | $1150.00 | $575.00 | $525.00 | $475.00 | $400.00 |