The 5day Salkantay Trek is also one of our most popular tours to Machu Picchu, we have daily tour departures for this tour.
Tour specifications:
Altitude: 1950 - 4600m. / 6398 - 15092 f.
High Season: April - November
Duration: 5 days / 4 nights
Level of Difficulty: Challenging due to the altitude: we recommend a period of at least 2 days for acclimatization in Cusco or over 3000m/9840ft.
Route: Open all year round
Type of Tour: Alternative Trek to Machu Picchu
Departures Day: Daily departures are available during the year.

TOUR OPERATED BY A PARTNER COMPANY with the guarantee of Manu Explorers Peru.
Tour Map: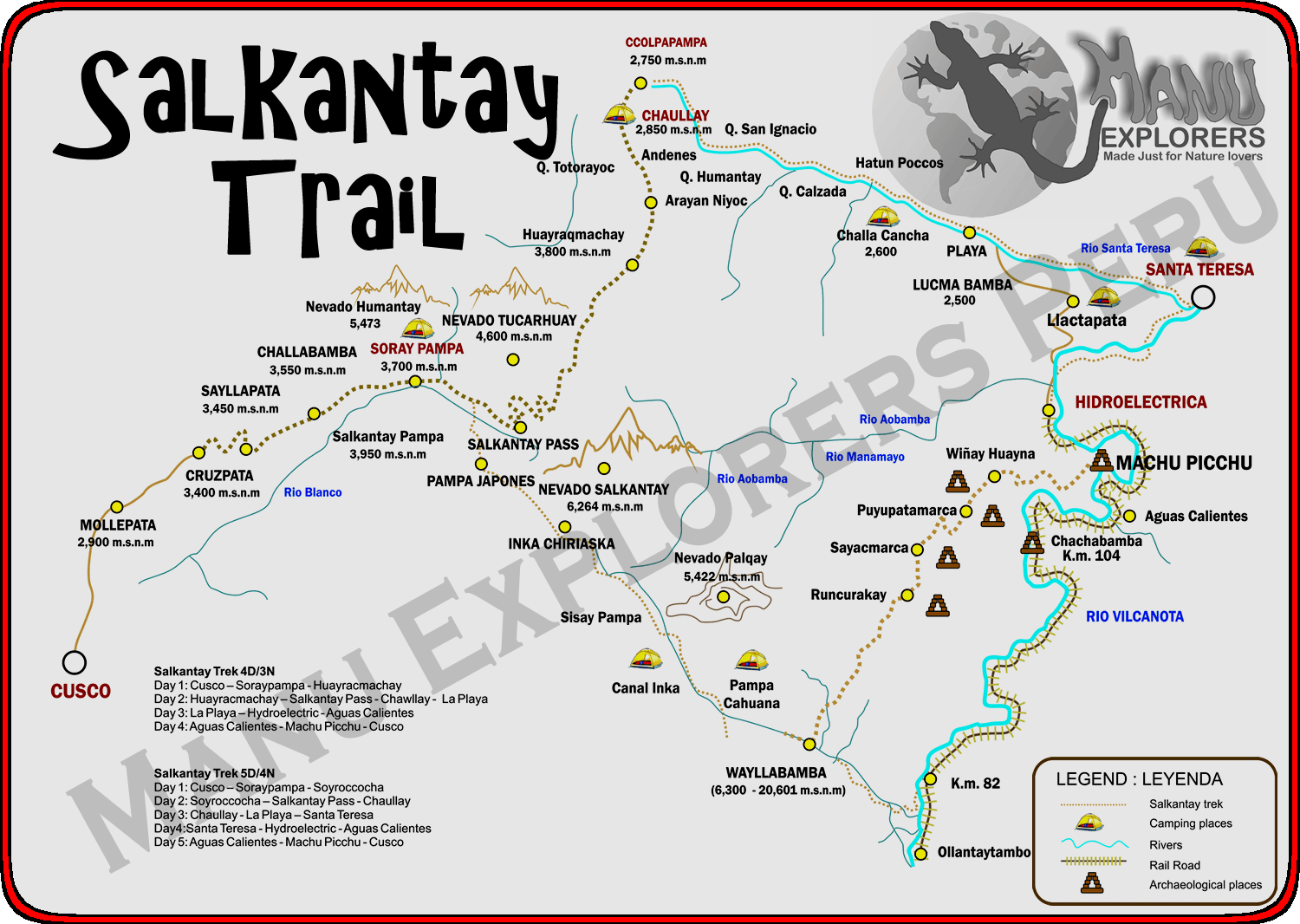 Tour Itinerary
Day1 : Cusco – Mollepata - Challacancha - Soraypampa(Humantay Lake).
Today's Highlights: Walking from Challacancha to Soraypampa with not too many tourists. An afternoon visit at the Humantay Lake and views of the enigmatic 'Apu' Salkantay. The campsite is exclusively just for our group (Click Here to see our SORAYPAMPA CAMPSITE)
We start the day with picking you up at your hotel or hostel at 05:00 am. We'll drive for around 4 hours, crossing Anta, Mollepata and end up at Challancha. Through the windows of the bus you can clearly see the white snowcapped mountains of Salkantay and Huamantay: the holy Gods of the Incas. But also the spectacular scenery of the higher situated areas and the lower valleys with colorful landscapes. After two hours driving there will be a quick stop in Mollepata town. At Mollepata there are toilet facilities, souvenirs shops and an optional short breakfast. When this short break is over we will soon continue to Challacancha, which is the start of our trail. There we will meet with our support staff. The staff will organize all the equipment, horses and mules. Around 9:30 am. we will start our trek to Soraypampa (3850 MASL – 12631 ft). The first section of the path is a hike over a few deep valleys. At some parts of the trail the old water channel can still be seen. The channel still supplies water to the farmers in the lower valleys. The beginning of the trek is 7km (4.35miles) hiking in 3 hours to Soraypampa, where we will have our lunch at the basecamp. After the lunch and a quick nap we continue hiking up to the Humantay Lake (4200 MASL – 13779 ft). This is a 5km (3.1miles) round trip which we will walk in a total of 3 hours. At the Humantay Lake the bottom of the glacier can be seen, and also the most spectacular views of the background with the valley at sunset. Soraypampa is located in the middle of the glacier valleys and at night the sky is so immensely clear that we can really appreciate the stars, constellations and even shooting stars.
Day2 : Soraypampa - Salkantay Pass - Wayracpunku - Chaullay
Highlights of today: Hiking along the Salkantay trail with the top view of the biggest peak. Views of the Salkantay Mountain and incredible views of the cloud forest and tropical jungle in Chaullay. Around midday we stand on the middle of the South America Andes mountain range. (Click Here to see our CHAULLAY CAMPSITE)
After an early wake up with the first daylight at 05:30 am. and a quick breakfast we soon start hiking up to the highest point of the trail: the Salkantay Pass (4650 MASL – 15,255 ft). The distance is a 7km (4.34miles) tough ascent in 3 hours, between the rocky valley bottom and the magnificent Salkantay Mountain (6200 MASL– 20,341 ft). When we finally reach the top we can and definitely will appreciate the spectacular views of the mountains and the imposing snowy peaks of the Salkantay, Humantay, Tucarhuay and Pumasillo. The Salkantay Mountain is the second highest mountain in the Cusco region and one of the Inca Gods called "Apu". After reaching the top of the pass there is a 5km (3.1miles) and 2 hours downhill hike towards the camp for our lunch. The walk downwards is on a serpent shape trail and a rocky gravel path to get to the Huayracmachay lunch spot. In the afternoon we will enter the upper part of the amazon jungle, which is also called "the cloud forest". This is a 10 km (6.2miles) hike in 3 hours on a wide trail in the thick forests. This hike is truly beautiful, there are decorated the hills with colorful sceneries and a lot of wildlife and native plants. The forests are most times of the year warm or have a temperate temperature. When finishing this magnificent hike we finally arrive at Chaullay Village (2900 MASL – 9,514 ft), our base camp in the jungle.
Day3 : Chaullay - Collpapampa - La Playa - Lucmabamba
Highlights of today: We leave as early as possible to enjoy an empty trail and appreciate the landscape, scenery and wildlife. While trekking through the jungle you can find loads of different wild fruits like: banana, avocado, passion fruit, etc. There are also waterfalls and water streams where you can refresh your feet in. Lunch in La Playa, afterwards we will have a short hike to our base camp Lucmabamba where we will visit an organic coffee plantation. (Click Here to see our Lucmabamba CAMPSITE)
At 6:00 am. we will start our trek to La Playa through the Santa Teresa valley. We will be hiking for approximately 6 hours. During the hike we'll see waterfalls, wild orchids, but also coffee, banana and avocado plantations. Here you can taste the famous passion fruit and granadilla fruit. We will see a village called Colpapampa, also called the "forest cloudy brow" where waterfalls, thermal hot springs, fruit-bearing trees, varied flora and birds can be observed. If we are lucky, we will be able to see the famous bird called "the Cock of the Rocks" this bird is the national bird of Peru. After lunch at La playa, we will hike for approximately 1 hour to our base camp called Lucmabamba (2400 MASL – 7874 ft). We will explore the tropical forest for a little while and have a lovely visit at an organic coffee farm. Here you can taste the coffee prepared by the local people. Coffee is the main farming industry of the local people here in the jungle and they farm many hectares of coffee to export to the USA, Asia and Europe. Coffee was first discovered in Ethiopia, but it wasn't until the Spanish invaded Cusco that it was brought to this region. We will also explore an orange and an avocado plantation.
Day4 : Lucmabamba – Llactapata – Hidroelectrica – Aguas Calientes
Highlights of today: The best day of the trek! We will try to get as early as possible to Llactapata. We hike up through a part of the original Inca trail and get some experience of the native people who live here in the area. Have a chance to harvest several fruits and have one of the best views of the Urubamba valley. See The Salkantay Mountain in the background and have your first glance on Machu Picchu!
The chef of the trek will wake you up early with a hot cup of coca tea served in your bed. You will get ready for today's activity while enjoying your last prepared breakfast by the trek chef. We will begin the hike early and you will get the opportunity to enjoy a small part of the famous Inka trail! After a climb of 2 hours with amazing views of the Santa Teresa valley we will arrive at the Llactapata Inca site right in front of Machu Picchu. This will be the first archaeological site we will see of the Lost City of the Incas and a very special place to enjoy and spend time. We will be able to see not only the Machu Picchu ruins from this spot, but also the Huaynapicchu and the Machu Picchu Mountain. We will explore this Inca site with the guide and he will continue the history lessons about the Incas of this beautiful country and of course you will have plenty of time to take as many photos as you want.
After the Llactapata ruins, we will continue our trek with a 2 hours downhill hike. At this hike you're always able to have views of Machu Picchu until we arrive at the Hidroelectrica train station which is our lunch place. The most impressive part of this area is the natural waterfall of 300 meters high which generates the electricity for the region of Cusco. We will then arrive at the famous Intiwatana. Intiwatana is an ancient rock used as a sundial in the ancient Inca times. According to history, this old Inca stone used to work with the famous sundial stone in Machu Picchu. These could measure and read the winter solstice which was the beginning of the new farming season for the Incas. After we pass this small Inca site we will reach the train rails. Next to the rails there is a nice path to walk on; this path will take us approximately 3 hours. After the 3 hours we will arrive at Aguas Calientes, which is located at the foot of Machu Picchu. This section is very interesting because it is the trail that was used by the American Professor Hiram Bingham who rediscovered Machu Picchu after centuries of it being lost.
Day 05: Aguas Calientes - Machu Picchu Sanctuary - Aguas Calientes - Ollantaytambo - Cusco
Highlights of today: Early morning arrival at Machu Picchu so you will have more time to explore this truly magnificent World Wonder with not as many tourists. You will even be there before The Inka Trail trekkers arrive! Enjoy the beautiful sunrise. Two hours guided tour of the mystical Machu Picchu ruins. Plus an optional climb to Huayna Picchu or the Machupicchu Mountain (if you have pre-booked tickets.)
The highlight of the trek, Machu Picchu! We will wake up early at the hotel. This is better for visiting Machupicchu, before the mass of people arrive. The Machu Picchu entrance check point is open from 6:00 am. until 17:00 pm. We will hike up to Machupicchu (a bus ride is optional for $12.00) and enter the city really early with a lot fewer tourists than during the midday. Here we will have a 2 hours guided tour through this incredible ancient city. We will visit temples, palaces, priest houses, a sundial, the industrial sector and the farming fields. After this guided tour you are free to climb up to Huaynapicchu or Machupicchu Mountain (book in advance to get your tickets!). Both mountains take approximately 3 hours to hike up and down. Or for the less adventurous you can trek to the sun gate, which is the main entrance of the Inka Trail. You'll stay and enjoy the city for more than 7 hours in the afternoon. We will organize the train ride at 18:20 pm. back from Aguas Calientes to Ollantaytambo and then a bus ride to Cusco to arrive at approx. 22:00 pm. The bus will drop you off at your hotel/hostel in Cusco.
The following is what is included in this trek:
Pre-departure briefing: You will meet your guide and group in our office, for an orientation trek and provide you the duffle bags which will be carried by our horses. meeting at 7:00 PM the evening before the trip begins.
Transport: Collection from your hotel in the morning and transfer in private transportation to Challacancha (starting point of the trek).
Experienced Guide: English speaking professional and official tour guide.
Personal tents: 2 people in each 4-people-capacity tent, to allow for higher comfort and a safe keeping of backpacks. Our tents are 3-season, highly maintained to ensure an excellent performance in field. Kailas, Pro aconcagua and Rei 4 Outfitter tents are employed when double accommodation is requested.
We offer private campsites: that are just for our customers. Like our ancestors we are very considerate with the Pachamama (mother earth). Therefore our campsites (CHOZAS) are adapted to the environment without generating visual impacts.
Our campsite consists of several huts which are made of a material (Ichu and wood) that will guarantee protection during cold nights and a pleasant rest. (Click Here to see photo).
Camping equipment: Dining and kitchen tents, tables, chairs.
Entry fee to Machu Picchu.
Foam mats or sleeping pads: to put under your sleeping bag (carried by horses)
Accommodation: 3 nights camping and 1 night accommodation in selected hotel in Aguas Calientes with Breakfast.
Hotel in Aguas Calientes: double or triple rooms, private bathrooms, hot showers, wifi, and storage while you visit Machu Picchu.
1 Duffle Bag: Where you can put your personal belongings (7 kilograms = 15 lbs) which includes your sleeping bag.
Cargo Mules: From day 1 to 2 to carry the all camping equipment and your personal baggage (7 kilos).
Trekking Cook: In charge to prepared all the meals along the journey, over 6 people cook assistant
Meals: 4 Breakfasts, 4 Lunches, 4 dinners and Snacks (Vegetarian, vegan or special menus are available at no extra cost)
Wake up tea: Every morning at the campsite we will wake you up with a cup of coca tea our support staff will bring the coca tea to your tent in order to wake you up.
Tea time = Happy Hour: Every afternoon 1 hour before dinner the cooks will let on the dining table pop-corn, biscuits, coffee, chocolate, different type of teas, hot water, etc. this is because after a day of hiking many are hungry and it is a bit annoying to wait till dinner that why we provide tea time.
Daily snacks - Days 1, 2,3 and 4 Our Snacks consist of local fruits, biscuits, chocolate, Caramels we will give this snack at the beginning of each day trek in a cloth bag to avoid environmental contamination.
One textile snack bag per person: to avoid the usage of plastic bags that contaminate our environment
Water grooming: Each morning warm water with towel
1 Blanket or Liner
1 Pillow per person
Medical kit: Our crew bring the First-aid kit including emergency oxygen bottle
Train tickets: From Aguas Calientes to Ollantaytambo (Expedition service at 18:20 hrs)
Transport: Transfer from Ollantaytambo Train Station to hotel in Cusco(Day 4)
24-h guest service: please ask for the emergency number available during your time of visit
Light-Weight plastic rain poncho
Not Included:
Entrance fee to Salkantay Trail (S/.10 per person)
Sleeping Bags: (you can hire from our company), our sleeping bags are -18ºC-comfort (0ºF), mummy form and include a sleeping liner. They are cleaned after every use and have a maximum usage of 30 trips.
Walking Sticks: you can hire from our company
Bay 1:Breakfast
Last Day: Lunch and Dinner in Aguas Calientes.
Option: If you feel tired after the trek to and from Llactapata, you have the option to take the train from Hydroelectric to Aguas Calientes, cost: $28.00
Additional costs or delays caused by management out of control like landscape, bad weather condition, in case of itinerary modification with a view to safety concern, illness, change of government policy, political instability raises strike, moment etc.
5day Salkantay Trek to Machu Picchu
| | |
| --- | --- |
| Number of people | 1 person+ |
| Price per Person | $420.00 |