This short 2day Inca Trail tour to Machu Picchu is designed for people who cannot do the Traditional 4day Inca Trail due to short time,
in this tour besides visit Machu Picchu you will also have the opportunity to enjoy the last part of the Inca Trail as well as enjoy the Sun Gate.
Tour Specifications:
Tour Package: 2day Inca Trail to Machu Picchu
Duration: 2 Days / 1 Nights
Type of Tour: Traditional Inca Trail
Group Size: Tour starting with 2 people
Departures Day: Close on February, this tour must be booked 5 to 6 months in advance.
Difficulty degree of this Trek: Challenging due to the altitude, we recommend a period of at least 2 days for acclimatization in Cusco or over 3000m/9840ft.
Popular Inca Trail Tours:
No Inca Trail spaces available? If the spaces for the Inca Trail are sold out and you would like to reach Machu Picchu Trekking, please consider booking our most Popular Alternative Trek to Machu Picchu called Salkantay Trek.
Please remember that there are only 500 spaces available per day for the Inca Trail, around 300 of them are taken by porters, cooks, and tour guides, the reaming 200 spaces are for tourist. To ensure your spaces for the Inca Trail we do highly recommend you to book it 4 to 6 months in advance.
VERY IMPORTANT!
NOTE 01: Day 2: The Huaynapicchu a mountain is located behind Machu Picchu. From the top of Huaynapicchu you will get a great aerial view of the Inca citadel. There is a checkpoint at Machu Picchu to climb Huaynapicchu. Entrances to climb up Huaynapicchu must now be reserved with a new entrance ticket to Machu Picchu because the entrance ticket for the Inca Trail does include only Machu Picchu and not Huaynapicchu. The tour guide will provide information on where the entrance to climb up Huaynapicchu is located inside of Machu Picchu.
Tour Map: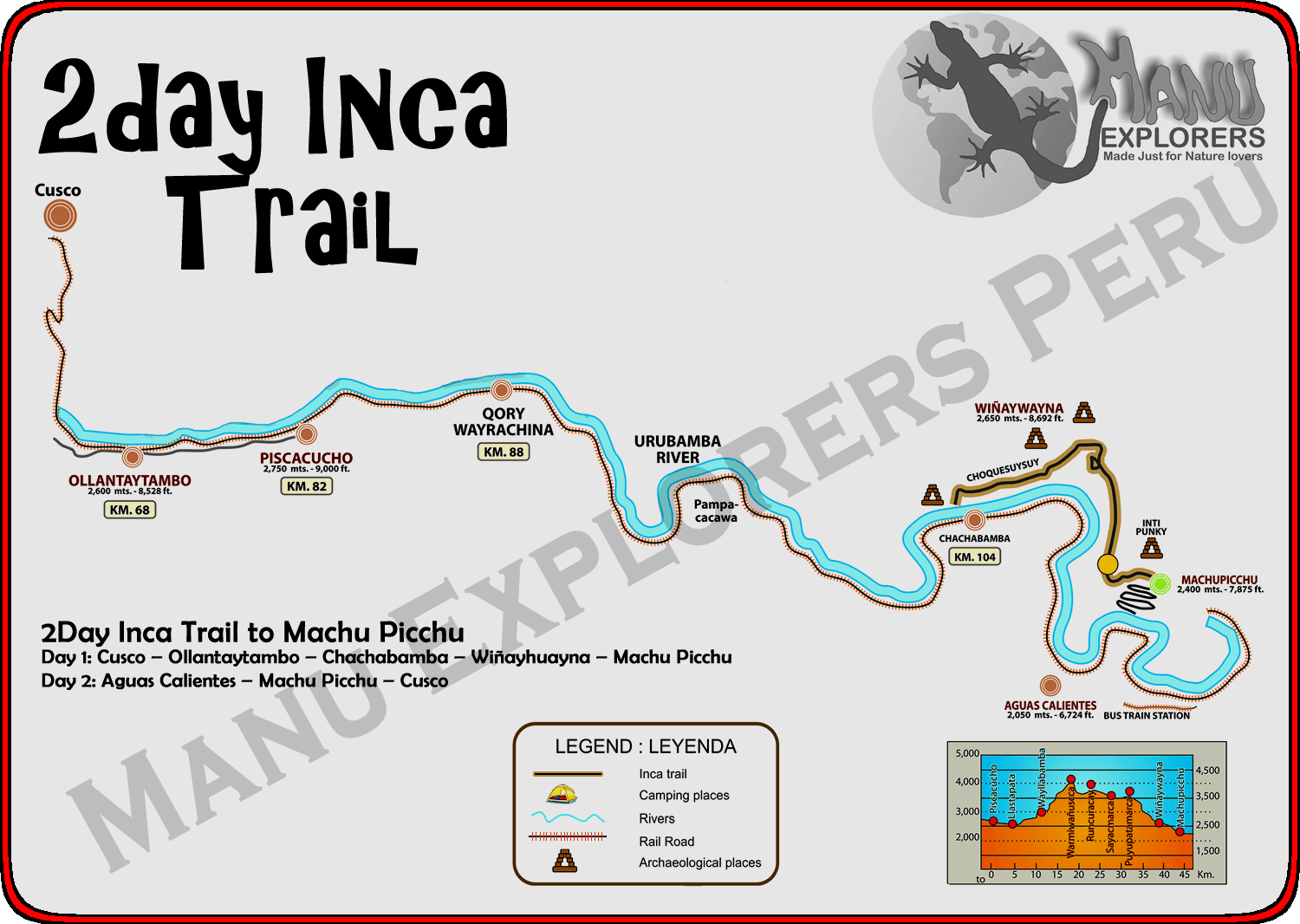 2 Day Inca Trail Tour Itinerary
Day 1: Cusco – Ollantaytambo – Chachabamba – Wiñayhuayna – Machu Picchu
We will start the tour very early in the morning, after pick you up from your hotel we will take you to from your hotel in our private vehicles and drop you at the train station, where we will begin our journey on the train, your tour guide will begin to point out different mountains and landscapes and introduce you to the valley. After two hours, we will get off the train at the trailhead at the marker "104 km." After a short rest, we will begin our hike. The first archaeological center that we will visit is Chachabamba at 2,250 meters (7,381 feet) of elevation. Then, we will gradually ascend for approximately three hours, towards the fascinating archaeological site called Wiñayhuayna at 2,650 m (8694ft). Here, we will learn about the site, enjoy its charm and have lunch. After our break, we will continue through the semi-tropical forest towards Intipunku (the Sun Gate), the place where we will enjoy the first panoramic view of the citadel of Machu Picchu. You will have time to take in the impressive mountains and deep valleys that surround the Sun Gate. You can also see the Urubamba River from the gate. From here we will walk another 45 minutes will take us to check pint at Machu Picchu; after enjoy Machu Picchu we will go to Aguas Calientes town where we will spent the night.
Day 2: Aguas Calientes – Machu Picchu – Cusco
Today, you will be able to choose between waking up at 4:30a.m. and walking up to Machu Picchu or taking a bus to Machu Picchu. In Machu Picchu you will have a guided tour for about two hours and after that you will be free to explore the Citadel and take pictures, in the afternoon you will have to be in Aguas Calientes at the Train station in order to take the train back to Ollantaytambo; from there we will pick you up and take you back to Cusco by bus.
The Tour Includes:
Train Tickets from Poroy to KM 104
Train Tickets from Aguas Calientes to Ollantyaytambo
Round way trasfers from the Hotel to the Train station
Entrance tickets for the Inca Trail and Machu Picchu
2 Bus tickets on the second day (you can choose to use one of them on the first day)
01 Night in Aguas Calientes
 Meals: 1 Box Lunch, 1 Dinner and 1 Breakfast.
NOT INCLUDED:
First day breakfast
Last day lunch
Personal equipment
Personal Porter
Beers
Entrance to the Hot spring in Aguas Calientes
2day Inca Trail Tour Price: The tour prices with discount listed below apply when you book Three months  in advance as minimum and are based on the number of people that books the tour together.
2Day Inca Trail to Machu Picchu
| | | | | |
| --- | --- | --- | --- | --- |
| Number of people | 2 people | 3 people | 4 people | 5 people+ |
| Price per Person | $480.00 | $460.00 | $450.00 | $440.00 |